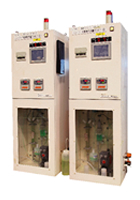 Auto-analyzing and replenishment device maintains the optimal condition of the plating solution
SUMER auto-analyzing and replenishment device
SACP-III
supports the optimal condition of the plating solution by analyzing and recording the nickel concentration, pH, temperature and replenish each solution automatically.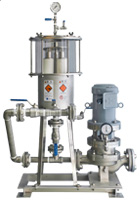 The filter pump filters the plating solution in circulation and removes impurities.
The filter pump for Kanigen plating
SFVP series
Our SFVP series filter pump is the filtering device which makes the plating solution circulate and removes impurities during the plating process under the high temperature over long hours.